One idea for a feature that's been going around for a while is to enable a person-to-person sharing, aka food baskets in Foodsharing.de. This is also an idea worth pursuing to make Karrot into a more general sharing platform.
I made up the following mock-up of how it would look like, with comments below.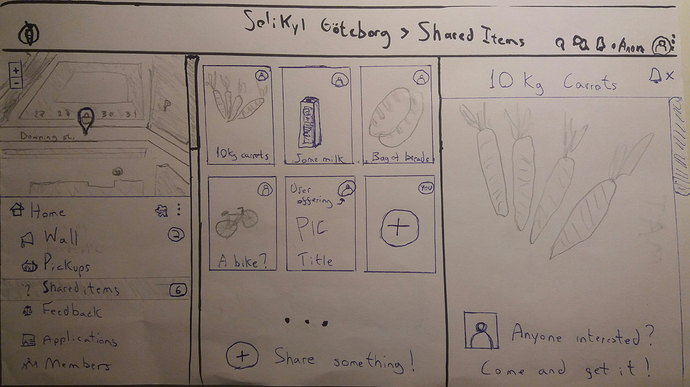 Shared items or food will be accessible on the sidenav (as you notice from the mock-up, I already excluded from the home-menu some of the less used features). The shared items will be visible with the picture, avatar of person sharing it and title. The button for sharing something (adding an item) should be prominent. Location on the map is on the left (already zoomed in to the selected item on the right). On the right-side column you have the item chat where other users can show their interest in getting the item.
Questions:
expiration date for the item?
how notifications will work
possibility to de-activate offering and chat after choosing the person who will get it
some rating or feedback system?
Implementation
My suggestion to start with the feature to work within a group, that is, whatever a person shares is visible for group members only. Later it would be interesting to make it possible to share an item publicly, that is, visible to any user of the platform, and to share items between groups, that is, a user can choose to which group(s) the item will be visible. There's a whole bunch of reasons to set it up like this, but I'll expose them in another occasion.