Hello there,
as you might have heard, we started trying to make Karrot into a more general tool half a year ago.
This first started with the Bike Kitchen Gothenburg wanting to test Karrot to manage their opening times and bike pickups. For this, they'd create a 'store' that is the bike workshop and 'pickups' for the shifts that people can sign up for. To organize their bike pickups they'd create a 'store' that saves the location and contact information of the building complex where bikes can be picked up and don't use the 'pickup' feature, because bike pickups are dynamically arranged when someone has the capacity to save the bikes. As you can see in these cases, our 'stores' are rather like 'places' and 'pickups' are more generally like 'events'.
Interestingly, we saw that some foodsaving groups also make use of stores in a more general way. EfA for example uses 'stores' and 'pickups' not only for pickups, but also for drop-offs (e.g. 'store' → orphanage, 'pickup' → 'Who can make a bread delivery on Tuesdays at 4 pm?') and Solikyl uses the same features also to organize their weekly hang-outs (e.g. 'store' → meeting place, 'pickup' → 'Who will attend the hang-out on Friday at 6 pm?').
That's why we have decided to rename 'stores' to 'places'. In the code it already happened, but also the UI will soon be adapted. On dev.karrot.world it is already changed and you can check it out there.
You'll see that the change is most visible in the sidenav. Here the word changes and the shopping cart icon will be replaced by the more general circle dot, which will also be the new icon for the place markers on the map: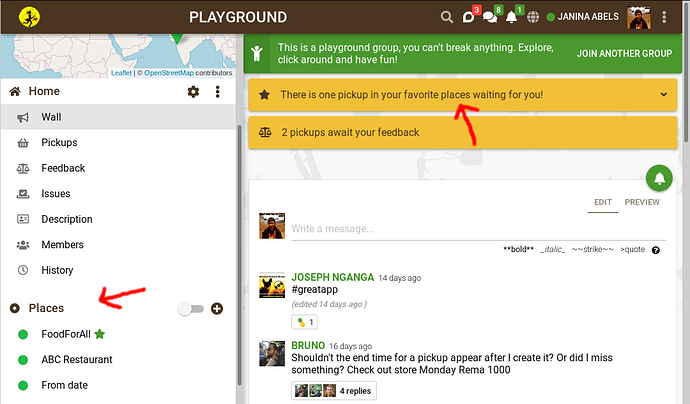 All phrases that used to contain the word 'store' will now employ the word 'place'. (This will break the existing translations of those phrases, which means that they need to be adapted in transifex, otherwise the English phrase will display.)
What do you think about this? Any concerns?