Hi everyone using Karrot! After some hard work from @nicksellen we can now put up offers and share food and things on our Karrot groups. Here's a screenshot of an example, check it out: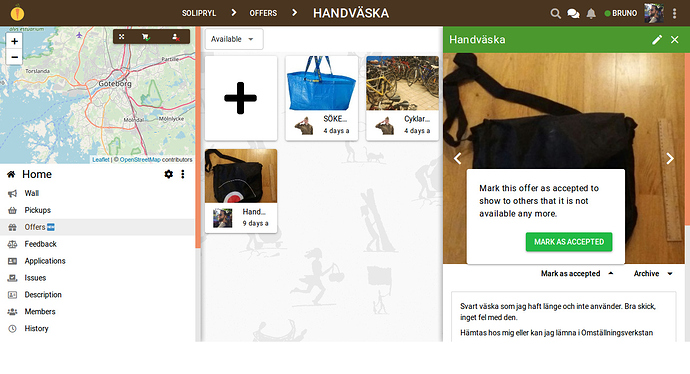 Obs: This feature is not automatically available in every group! Let us know here if you're interested in trying it out, so it can be activated for your group. Feedback is always welcome!
What does this feature do?
Any member within a group can put up one or many pictures and a description of an object that is being offered/shared. Every offer has its own conversation, for anyone to participate, show their interest in it or just ask questions.
The creator of an offer can mark the offer as accepted or archive it so it won't be visible anymore at the offers page.
People will get notifications about new offers, unless they unsubscribe to it.
Things that it does not do, but could be implemented in the future
(depending on use and feedback)
Set a location for the offer (where to pick it up for example)
Set an "expire date", so that the offer is no longer available after a certain day
Create (filter by) requests instead offers
Create a public offer or to another group