Dear Community,
I have a nice idea for a first, easy light version of "Breaking the Silo".
Why?
We have chat groups with lot of people, who also would like to get active. With "shareable" links a lot time can be saved.
Situation: There is a store for pickup on carrot. Now I want to share some of the store details to the chat group.
Idea: In the settings of a "store" or "place" u can define 2 templates.
** first template **
A template text for the group (Without the exact adress)
an example:
+++ Robin Foods Pickup 🦸🥕 +++
🥕 Organic School Food @ [CITY+DISTRICT] 
📆 [Date], [Time]
🧍‍♀️   [NUMBER OF RECOMMENDED PARTICIPANTS]
📦 [REQUIREMENTS] ( like are u able to carry 5 crates, do you have a cargo bike?)
👉 Then write me a private message

If someone is interested, this person will send u a priavte message like "Hi. Im interested for the pickup."
To responde to this private message, there is a 2nd template with details:
** second template **
A template text for the private message to member from the chat group who ist interested for pickup
an example:
+++ confirmation message +++
🥕 Organic School Food
🏠 [EXACT ADRESS]
📆 [Date], [Time]
📱 Join our robin foods network so you can easy sign up yourself for pickups: Register @ [LINK TO KARROT GROUP]

How to get the text?
For each activity there is a button. If you click on it the text will be copied automatically to your clipboard and u can paste it where u want
Here is a picture of the idea: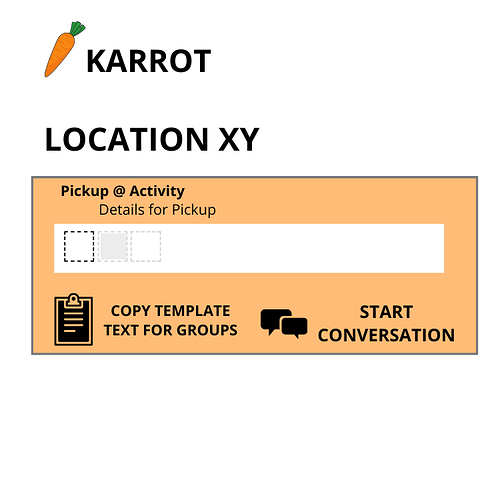 Its still bit of work, but will help us a lot!