This kind of got deadlocked trying to think about how the roles should work (which is the fate that led to group agreements never being usable). It is a tricky topic!
The other part of the backend API work (setting activities to have max trial slots and accepting trial participants) is actually done now.
I had a little ponder about it again, and wondered about a concept of "trust for role" (which has come up in past discussions before - you might trust someone to do one thing, but not anything… in general).
Here's (literally) a back of an envelope sketch: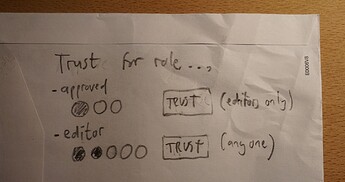 (… in this way it's actually like a basic role voting election system … although no mechanism to remove the role again …)
A few points:
initially might be best to keep to a set of fixed roles, but keeping a mind open to custom roles
… we could be starting down the path of creating "admin roles"! … if you can customize what they can do with a given role… need to refer back to our values here to make sure we don't encode hierarchical practises without thinking
as this adds complexity to the trust system, and it's already one of the more confusing features, so I think we really need some good UI/UX to make it clear to people how it works, two parts in particular I think about:

making it clear on the profile the situation of a given user
prompting to give trust in more places (e.g. activity feedback)

there is also some overlap with the concept of working groups (and also the use of places without a location as discussion/working groups), but maybe we don't need to think about that right now
potentially also giving trust in the context of a role and a place could make sense, but again would like to leave that concept out if possible
Maybe we schedule another call with @danveg and @bruno (and anybody else interested) soon to give it a kick into life again!
(it might be our new Freiburg team are up for building some nice UI/UX too!

)