We have recently introduced a new categorization of stores in Warsaw which define the rules how often each foodsaver can sign up for a pickup. We have taken the following factors into account to assing a category for each store:
Popularity of the store defined as ease to sign up for a pickup (based on an observation of stores for a couple of weeks in random times).
Number of foodsavers ready to pickup in a given store (based on history of pickups in last two months).
We have created four categories:
Popular stores which you can pick up not more often than every 14 days
Popular stores which you can pick up not more often than every 7 days
Stores which require moderation in pickups, i.e. you can pick up once in a week (1 pickup between Monday and next Sunday)
Unpopular stores which you can pick up without any restrictions
We are quite happy with the rules, especially that the methodology used to prepare the categorization led to reasonable and uncontroversial outcomes.
However, what we currently lack is a proper mechanism to enforce imposed restrictions. I'm trying to build some automated scripts using Karrot API but, as I don't have any experience in this area, it will take me some time to get to the point when it can be used
We have had an interesting idea how a simple change in Karrot could help us (and all other Karrot communities) control the frequency of pickups in much wanted stores. This would be an option to see not only future pickups in a store but also historical pickups on the same page: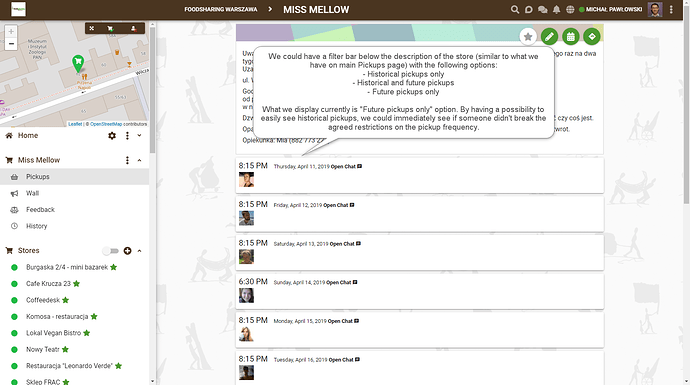 It's still to define how many historical pickups should be displayed - would it be the same number of weeks which are set up in settings for future pickups or a fixed number or would it be a new config item. Before spending time on details I would rather know what you think about this. Do you find it useful too? And how complex is it from the development perspective?